A.R.K
Act of Random Kindness
It is time to pay it forward. S.U.G.A.R is over two years now. We have had sisters coming and going. I am sure we have made a difference is someone's life, in someone's heart.
It is time to make someone else smile with an act of Kindness!
Starting today – October 12, 2007 (Friday)
All S.U.G.A.R sisters are required to show someone weather you know it or not. It is time to leave behind a card, a quote, a gift asking them to keep the ripple going.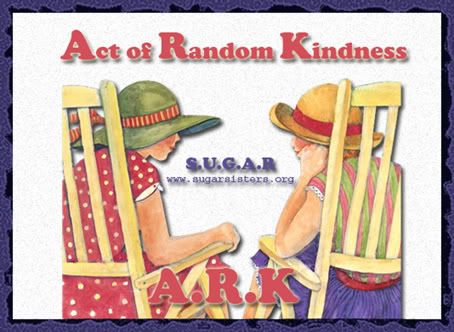 In the name of all S.U.G.A.R I want to thank you all for being a part of my life and for helping me in all times!
I love you all and I wish nothing but the very best!
Blessings,
Lady Nailah (Fernanda)
http://www.sugarsisters.org